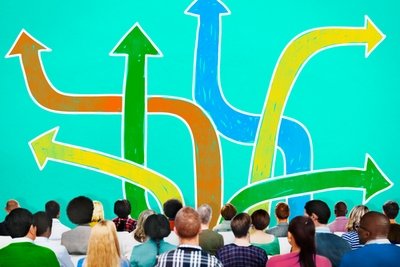 Are you wondering whether it would be a good idea to involve employees in your business in decision-making in some capacity? You may feel reluctant to do so and feel protective of your (or your management team's) right to make decisions themselves.
But there are plenty of business benefits to involving employees in the decision-making process. Here are some of the reasons you might want to consider it.
1. Morale
There is plenty of evidence that morale is higher amongst employees who are involved in decision-making. People can see that they can make a difference, they feel involved, see how they contribute to the goals of the organisation and feel empowered to influence their workplace. All this leads to increased engagement and satisfaction with their job and with the company as a whole.
2. Productivity
Employees who are involved in decision-making feel a personal stake in the organisation and in its success. This naturally leads to more productive workers, as they want to contribute more, especially when combined with higher morale and job satisfaction.
3. Ownership of decisions
If someone has taken part in a decision, they are more committed to its success, so are more likely to work hard in support of that decision. Even when things go wrong, those who have been involved in making the decision are likely to work hard to put things right.
On the other hand, it's very easy for employees who have not been involved in the decision to develop a pessimistic "this is never going to work" attitude from the start, and to blame management when things go wrong.
4. Teamwork
Employees who are involved in decision-making feel their contribution is valued, and the process of sharing opinions and discussing work matters itself can foster a sense of teamwork and improve relationships between workers themselves.
5. Useful resource
Your staff can be an invaluable source of knowledge and expertise. They understand the company well, and the processes and realities of the work you do. The viewpoints and opinions of those on the ground can be incredibly useful in making effective decisions about your business.
Employees may be able to identify factors you wouldn't otherwise have considered, and predict possible issues which may arise, helping address concerns early on and improving the chances of success of decisions the company may make.
If you would like advice on managing this process in your organisation do get in touch.