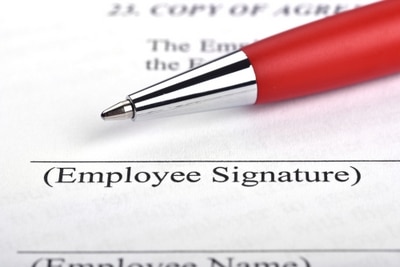 Once you have reached the point that you are either starting to employ staff or are realising that a proper employment contract would be beneficial for your business (rather than a written statement of the very basics), the next stage is obviously to source a contract that meets your needs. So what are the options?
Free templates
In the Google world we now live in it's perfectly possible to get free templates for contracts from the internet. But just because you can download something free doesn't mean it's a good idea to!
If you download free templates you have no idea of the quality of them, how up to date they are or how relevant the terms are to your business meaning it's very much a false economy. You will also have no come-back if there are any problems resulting from that contract.
Standards
There are some helpline HR support services, industry bodies or similar who offer access to a standard template contract. The advantage of these is that they should be up to date, and you may have access to some support in the event of a query. They are also likely to be not too expensive, or may come included in a subscription or membership or similar.
But they are not tailored to your business, so may not include some aspects which aren't crucial to every business but are to yours, they may not include the information that would most benefit your business, and may not be worded in a way that best suits you. They are also often longer and more detailed than is needed or appropriate for very small businesses, purely because these services are necessarily trying to provide a product which is useable by as many different businesses as possible.
A bespoke employment contract
The biggest advantage of a bespoke contract drafted for your business by a professional is that it will contain exactly what your business needs, missing out things which aren't needed, and putting in clauses or wording which will help you. To be a really effective management tool you need a contract that is readily understood by both employer and employee, in user-friendly, easy-to-understand plain English, but also ensures that you as the employer are legally well-protected.
It's perfectly possible to do this – you don't need complicated and incomprehensible legal language to ensure robust protection. But to achieve that you do need it drafted by someone with an excellent working knowledge of employment law and other law governing employment contracts. Simplifying legal language whilst maintaining its legal effectiveness is a skill that only comes with significant knowledge and experience.
It's really worth a little bit of time and what doesn't need to be great expense to get your contract drafted for you by a professional – any law firm with an employment law department will do something for you, as will an HR consultancy working with small businesses.
Whoever you use, make sure the person doing it takes the time to understand your business and identify what key issues are or might be in the future. Make sure they can suggest what terms and conditions you may want to consider (and why), and can advise on their enforceability.
Using it and updating it
Once you've got one drafted that you are happy with, make sure you know how you need to adjust it when issuing one to a new employee (for things like holiday for part-timers), and make sure you get it reviewed regularly, both for legal changes and also to ensure it remains appropriate for your business as it grows. If you have an HR provider or employment lawyer working with you they should do this, but ask them to if it's not happening automatically.
If the contract you end up with is a good one, you are less likely to have problems arise, and if you do, they are likely to be resolved more quickly, more easily and with less of a negative impact on the relationship between you and your staff member. In a small business that's absolutely fundamental and for that reason a decent contract as important for you as it is for a bigger business.
If you'd like assistance preparing contracts for your business, do get in touch.