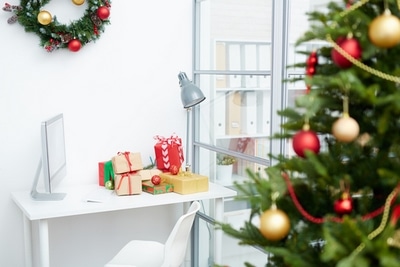 Culturally in this country we celebrate Christmas, whether Christian or not, and that frequently extends to a greater or lesser extent into the workplace, with various festivities, events, exchanging of cards and gifts and time off work.
But business owners with a workforce profile which includes several different religions are sometimes concerned about whether it's ok to celebrate, whether they should be doing anything specific for those of other religions, or whether it's best to do nothing at all. Of course it is unlawful to discriminate against anyone on religious grounds, but does celebrating Christmas in the workplace constitute discrimination against staff of other faiths?
The fact is the United Kingdom is a predominantly Christian country, but even more than that, Christmas has become something which is also a secular celebration. Most people mark it or acknowledge it in some way and doing so in the workplace can be a good way to foster a positive atmosphere and generate some goodwill.
On the other hand if Christmas festivities are happening everywhere in the community, but in your business it is not acknowledged at all, the opposite effect in terms of atmosphere and working relationships might be the result. You might be resented as the business owner and indeed employees from other religions in your workforce might be blamed.
So marking this time of year is a good thing to do, just bear in mind that if you have either staff and/or customers/visitors who might be either of another religion or not religious at all, it's a good idea to be a little bit sensitive about how you do so.
If you decorate the workplace, it might be sensible to avoid religious imagery and similarly if you send Christmas cards or messages, stick to seasonal themes rather than religious ones.
Many businesses have some kind of Christmas party or celebration for staff, and it's fine to do that whether you have employees of other religions or not – this type of event is as much about thanking staff for their hard work during the year and giving them an opportunity to socialise together and let off steam as it is about Christmas itself.
But when planning your event, do take into account the requirements of other religions and ensure that your arrangements won't disadvantage those of other faiths. Consider the provision of alcohol, the date/day of the party, dietary requirements for food, suitability of venue and any entertainment/theme planned for the occasion, and if you are not sure, don't be afraid to engage in dialogue with the relevant team members. Some people are more orthodox in their religion than others, so don't make assumptions about what will or will not be acceptable. Most people are reasonable if they are engaged in discussion and consulted.
Many businesses close for Christmas Day, and also Boxing Day, but of course for employees who don't celebrate Christmas at all, it's just another working day, and it is possible people may prefer to use this time off for their own religious festival instead. You are not obliged to do this, and you are allowed to shut down your business and require staff to take the time off, however it might be nice to consider allowing employees of other religions to work those days and take the time off for an alternative religious celebration if this is feasible for you.
Even if you can't allow staff to work Christmas Day, you should allow staff of other religions to take annual leave for their own religious celebrations if this is at all possible.
If you have significant numbers of staff of another religion, you could consider celebrating a festival of that religion in the workplace, either as well as or instead of Christmas, and providing resources and support to those who wish to take part.
If you would like more guidance on managing Chritmas celebrations at work do get in touch.