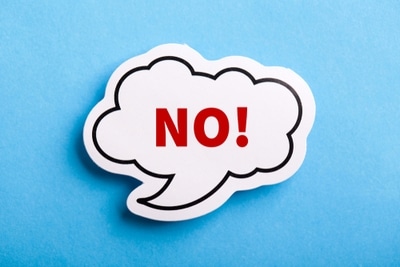 While we would encourage employers to agree flexible working requests if possible (here's why), sometimes this is difficult. Here are the top six questions we get asked about refusing flexible working.
Am I allowed to refuse a request?
Yes absolutely. You must consider requests from any employee with 26 weeks' service, but you are not obliged to agree it as long as you have business reasons for your refusal (see below).
What if I've agreed a similar request before?
Managers are often concerned about precedent, both in terms of wondering if they have to follow a request already agreed, or in terms of being reluctant to agree new requests in case a precedent is set for future requests.
In fact each request should be considered on an individual basis, so the fact that you've agreed something for one employee doesn't then compel you to agree similar requests by other staff later down the line. Of course if an employee making a request to reduce his or her hours can see that a similar arrangement agreed previously works really well, they may refer to this as evidence that their request is workable.
But actually sometimes the opposite is true, for example in a small business where staffing is often tight, it's perfectly reasonable not to agree homeworking for an employee if you already have someone in the same team homeworking and having two at home would leave you short-handed.  So in that situation the fact that a similar request has been agreed previously is actually a factor in refusal of a new request.
Ultimately, as long as your refusal fits into one of the specific business reasons you are allowed to use, it is fine to refuse requests similar to those agreed before, and when considering a new request, you don't need to worry that you'll be held to similar requests in future.
I don't think it will work but have no proof, can I insist on a trial period?
If you're not sure whether a requested arrangement would work, you can discuss the possibility of a trial period with your employee, of say three or six months to test it out. You can't insist on it though, so if they don't want to do that, you will need to either refuse or agree a request straight out. Trial periods are good for employees, as it gives them a chance to prove their proposed arrangement works, however some employees may be unable to do a trial as they need to make permanent childcare or other family arrangements.
Do I have to give a reason why I'm refusing?
Yes you do. Although employers are not obliged to agree to requests, they must consider them carefully and properly, and if they need to refuse the request, give at least one of eight specific appropriate business reasons for that refusal. Those reasons are as follows:
the burden of additional costs
an inability to reorganise work amongst existing staff
an inability to recruit additional staff
a detrimental impact on quality
a detrimental impact on performance
detrimental effect on ability to meet customer demand
insufficient work for the periods the employee proposes to work
a planned structural change to your business.
As well as giving one or more of the above reasons, you need to explain why that reason applies in the circumstances. For example if you are citing a burden of additional costs, you should explain what these costs will be.
I don't think the reason the employee is requesting flexible hours is justified, can I refuse?
As long as the employee meets the requirements to be able to make a request, that's all you need to consider. Previously, when the entitlement to make a request was limited to parents and carers, the request had to be for the purposes of caring for their child or dependent, however now the entitlement to make a request has been widened, there is no requirement for a request to be for a "justifiable" reason, and the reason a request is being made should have absolutely no bearing on whether you agree it, or how important you feel it is. Your decision must purely be around whether it can be accommodated in the business.
Should I allow an appeal?
Yes ideally. There is no longer a specific requirement to do so, however as part of demonstrating that you have dealt with a request in a reasonable manner, it would be advisable to incorporate into that the ability to appeal a refusal.

If you have any further queries on flexible working in your business and need some advice, do get in touch.