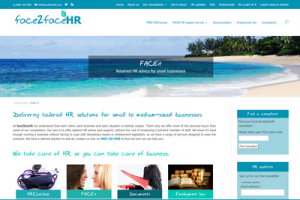 One of the most important things partners with us benefit from is our website www.face2faceHR.com. They have their own page with their profile and contact details on it, but also benefit from the wider site, with details of products and services and other useful information for clients and contacts to access.
A good website is essential for any HR consultancy business, but do you know exactly what is involved in providing a website for partners?  Here's what we do…
We maintain and pay for the website address and domain name.
We pay for hosting, monitoring and technical support and advice. If there is a problem with the website or we need advice on changes and other technical details, we have the support there.
We draft legal terms of use and monitor legal developments to ensure current requirements for websites are being met. These change regularly but we keep on top of them, including paying for professional legal advice where appropriate.
We maintain forms and contact us methods on the site so that your potential clients can reach you, and those interested in your newsletter can sign up easily. We then ensure potential clients in your area get on to your list.
We draft free downloads as an incentive for people who sign up to the newsletter and ensure these download automatically when someone fills in the sign-up form
We draft and update product information and other content, to maximise the effectiveness and relevance of the website.
We are constantly updating the website to maximise search engine optimisation and keep visitors coming back.
We draft weekly articles for your use on a range of topical HR subjects.
We maintain your personal local SEO ranking ensuring local clients find you.
We monitor website activity and hits so we can see where people are clicking through from with the help of Google analytics.
We pay for expert advice and website design talent to ensure the website is appealing to potential clients.
We review website design and seek expert advice to ensure the needs of the business are still being met.
As you can imagine, all of this takes quite a bit of time and expense. You can get software to create your own website quite easily these days, but actually there's a lot more to it, and for our partners, not having to pay for or spend time doing all these things is another reason why we offer exceptional value. It means our partners can spend their time concentrating on getting in clients and doing paying work rather than worrying about websites!
If you're interested in talking to us about becoming a partner with face2faceHR, with bags of support, do get in touch, or download our prospectus.