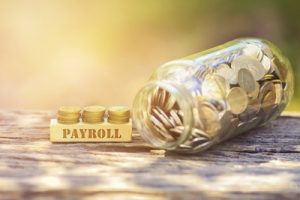 The government last week published the longest-ever list of employers who have violated minimum wage legislation. Biggest offender was retail giant Debenhams, who underpaid almost 12,000 workers to the tune of nearly £135,000, with the retail, hospitality and hairdressing sectors being heavily represented.
Common practices in these sectors such as including tips in pay and deducting pay to cover the costs of uniforms and Christmas parties were excuses given by some, while Debenhams blamed a 'technical error'. In the care sector the amount of time spent by workers travelling between appointments was blamed.
It occurred to me that often as HR professionals we actually have very little involvement in payroll. Often HR teams are responsible for passing on information to payroll departments, regarding new starters, salary changes, maternity leavers and so on, but certainly speaking for myself, my involvement in payroll when working in employed roles never extended beyond that. (Or my interest, if I'm brutally honest…!)
Thinking about the errors which seem to have caused most of the violations in this list (leaving aside Debenhams' astonishing 'technical error' which I think it is perfectly reasonable of any HR department to rely on payroll to avoid), they seem to mainly revolve around areas where pay, hours and other factors vary, probably from week-to-week and from worker-to-worker.
Perhaps for HR professionals a good understanding of the legislation isn't enough – do we need greater involvement in, or oversight of, the systems actually used by managers and payroll teams when it comes to calculating pay/managing deductions?
Obviously ideally, employers would all pay the National Living Wage as a basic, not make any deductions for anything or rely on variable factors like tips to cover their legal obligations. But if in your business you do operate a system whereby you want or need to keep costs at a minimum and can't pay for uniform on top of salary, or need to rely on things like tips, you need to be absolutely sure the systems you have in place for recording those sorts of deductions/payments and matching them against accurate records of hours worked are sufficiently robust.
This list of 360 offenders and a look at the penalties issued should prompt a review of procedures, especially in organisations in the heavily-represented sectors, and it might be an idea to implement regular 'spot' checks to avoid errors going unnoticed (and therefore accumulating) for long periods of time.
I'd be interested to hear whether you, as an HR professional, think you need greater oversight of payroll systems? Do get in touch!